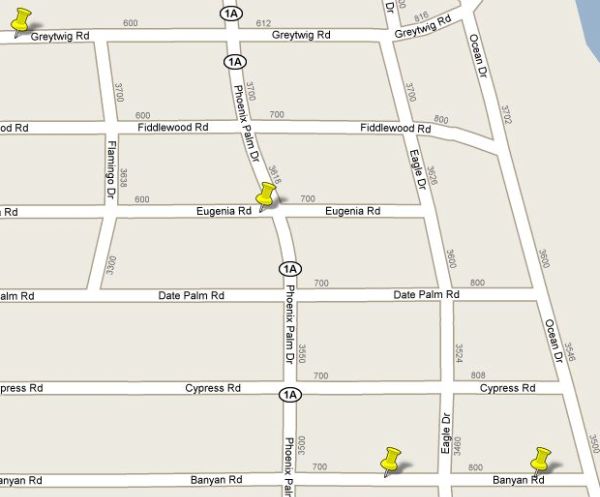 By Lisa ZahnerVERO BEACH — Burglars have pilfered tens of thousands of dollars of jewelry from five barrier island homes since Memorial Day and police have no suspects and very little to go on.
As first reported in Vero Beach 32963 on Thursday, four of the homes were located in the Central Beach area and one – the home of television personality Dr. Josephina Monesterio and husband Dr. Danny Quaranto – was burgled this past weekend just across the Vero Beach line in Indian River Shores.
Officer John Morrison of the Vero Beach Police Department has been working with the more than 100 active members of the Central Beach Neighborhood Watch group to try to solve these crimes and to prevent further ones from happening in their territory, which runs from 17th Street to the Indian River Shores town border. "In the homes that have been burglarized, there have been no dogs and no active alarm systems," he said. The burglaries all took place while residents were away from the house. Only jewelry was taken. The most recent Indian River Shores burglary seems to be similar.
"I guess they thought because I am on TV that I would have a lot of expensive jewelry, but the joke is on them, because they only got a couple of rings and some costume jewelry," said Monesterio, who appears on Vero Beach's local Channel 10.
In her opinion, the $3,000 in jewelry the burglars got was less consequential than the mess they created by kicking in her door and ransacking her bedroom.
Morrison said he's not surprised that only jewelry has been taken as it is not only very portable, but easy to sell, either to traveling gold-buying operations or to mail-away jewelry buying companies. None of the stolen jewelry has surfaced at local pawn shops.
Other crime in the area happened on an off-week, with an auto theft on June 27 and a car burglary on June 28, both on Fiddlewood Lane, where Rosemary White lives. White headsup the South Beach Neighborhood Watch group.
"I know they are still in the area, they're walking up on people's property," White said.
Morrison said the homeowners have been interviewed as to which service people have been in their homes regularly or recently, and he's found no commonalities that would lead to a suspect or suspects. He's received a dozen or more tips from neighbors and urged people to keep calling if they see or hear something that might lead to an arrest. He can be reached at (772) 978-4649.